Grammys! Diddy Hosts Jay Z, Star Studded Event With DJ Khaled, Chris Paul, Rihanna & More At Roc Nation Brunch
The Roc Nation Brunch Looked Like A Star-Studded Family Reunion! Rihanna's Perfect Spring Look, Slim Jay Z & Diddy Suited Up, Big Sean & Jhene, More
The Roc Nation Pre-Grammy Brunch brought out all your faves for their annual pre-Grammy ritual of laughs, drinks and catching up at a fabulous mansion in Hollywood. It looked like a star-studded family reunion. Go inside for flicks of
Rihanna, Jay Z, Diddy, Remy Ma, Fat Joe,
new family member
Jim Jones
and more…. "It's the ROC in here!" Before they take over the red carpet (and sweep up awards) at this year's Grammy's awards, the YBF stars trekked it to Owlwood Estate to celebrate at the 2017 Roc Nation Pre-Grammy Brunch event, hosted by Diddy.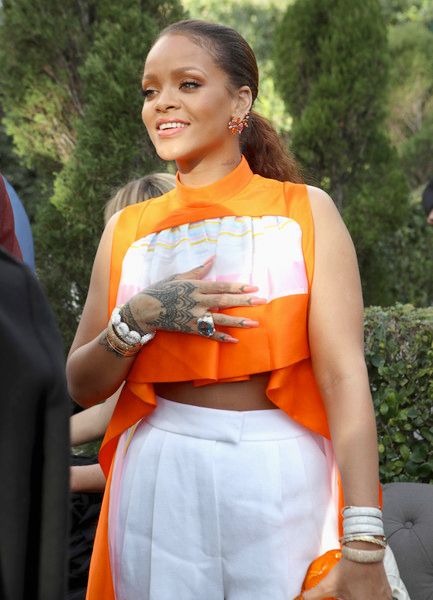 Roc Nation's leading lady Rihanna was in the mix serving up the perfect spring time look that we're obsessing over. The "Work" singer strolled through the star-studded affair in an orange and white organza top paired with white high-waisted trousers by Delpozo. And she didn't skimp out on the accessories. She styled her look with stacks of Jill Heller diamond cuffs and an orange suede Benedetta Bruzziches clutch.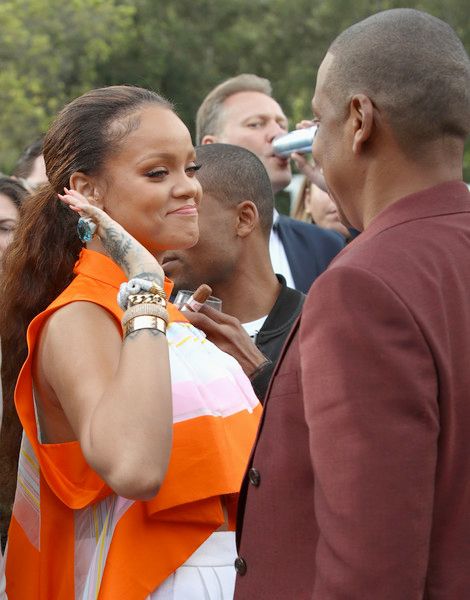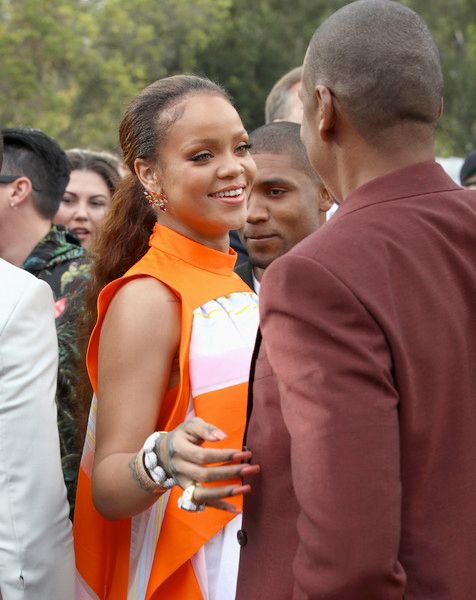 We can only imagine what these two were kiki'ing about.   &#160; The &#8220;Sex With Me&#8221; <span class="vm-hook-outer vm-hook-default"><span class="vm-hook">singer</span></span>, who&#8217;s up for 8 Grammy nominations tonight, chopped it up with her boss/mentor Jay Z. The super pregnant <strong>Beyonce</strong> did not attend the event as she is likely putting the finishing touches on her Grammy <span class="vm-hook-outer vm-hook-default"><span class="vm-hook">performance</span></span>. Bey is nominated for 9 gold statues this year. <img src="http://i64.photobucket.com/albums/h164/ybfchic/February%202017%20Part%203/roc1.jpg" alt=" photo roc1.jpg" border="0"/> Hov and Diddy took their bromance to another level with their similar shades of salmon suits. Yep, these two Hip Hop moguls are still rocking out with each other decades in the game. <img src="http://i64.photobucket.com/albums/h164/ybfchic/February%202017%20Part%203/roc10.jpg" alt=" photo roc10.jpg" border="0"/> <img src="http://i64.photobucket.com/albums/h164/ybfchic/February%202017%20Part%203/roc3.jpg" alt=" photo roc3.jpg" border="0"/> L.A. Clippers baller <strong>Chris Paul</strong> cleaned up nicely in an all white/pearl suit. The NBA point guard made a visit to the Roc Nation headquarters a few months ago, sparking rumors that he might sign with the label. No word yet on if he&#8217;s joining the label's sports roster. &#160; <iframe id="instagram-embed-1" class="instagram-media instagram-media-rendered" src="https://www.instagram.com/p/BQY7ZENjBkD/embed/captioned/?cr=1&amp;v=7" width="300" height="753" frameborder="0" scrolling="no" data-instgrm-payload-id="instagram-media-payload-1" data-mce-fragment="1"/> &#160; <img src="http://i64.photobucket.com/albums/h164/ybfchic/February%202017%20Part%203/roc7.jpg" alt=" photo roc7.jpg" border="0"/> Although Diddy <a href="http://theybf.com/2017/02/03/diddy%E2%80%99s-doing-great-after-third-knee-surgery-in-a-year-keeps-fans-updated-from-hospital"><strong>underwent surgery </strong></a>about a week ago, that hasn't slowed him down.&#160; At all. He's been all over the L.A. <span class="vm-hook-outer vm-hook-default"><span class="vm-hook">scene</span></span> with his cane. <img src="http://i64.photobucket.com/albums/h164/ybfchic/February%202017%20Part%203/roc4.jpg" alt=" photo roc4.jpg" border="0"/> G.O.O.D. Music rapper <strong>Pusha T</strong> was in the mix for the swanky soiree. <img src="http://i64.photobucket.com/albums/h164/ybfchic/February%202017%20Part%203/roc5.png" alt=" photo roc5.png" border="0"/> Pretty in pink! Remy Ma looked amazing in a pink Intertwine Collection dress paired with Gianvito Rossi sandals. She linked up with her &#8220;brother&#8221; Fat Joe, Hov and Diddy during the festivities. Remy and Joe are in the running for Best Rap Song and Best Rap <span class="vm-hook-outer vm-hook-default"><span class="vm-hook">Performance</span></span>. <em>FUN&#160;FACT:&#160;Remy is the only female rapper nominated this year.</em> By the way, Remy and Joe&#8217;s collaborative album, <em>Plata o Plomo</em> is set to drop next week on February 17th. <img src="http://i64.photobucket.com/albums/h164/ybfchic/February%202017%20Part%203/kellyroc1.png" alt=" photo kellyroc1.png" border="0"/> <img src="http://i64.photobucket.com/albums/h164/ybfchic/February%202017%20Part%203/kellyroc3.png" alt=" photo kellyroc3.png" border="0"/> <img src="http://i64.photobucket.com/albums/h164/ybfchic/February%202017%20Part%203/kellyroc2.png" alt=" photo kellyroc2.png" border="0"/> Birthday Baddie <strong>Kelly Rowland</strong> rolled up on the scene looking like a million bucks. She snapped it up with her Destiny's Child bandmate <strong>Michelle Williams</strong> and singers <strong>Justine Skye</strong> and <strong>Tiwa Savage </strong>during the party. Happy Birthday Kellz! <img src="http://i64.photobucket.com/albums/h164/ybfchic/February%202017%20Part%203/roc11.jpg" alt=" photo roc11.jpg" border="0"/> Rapper <strong>2 Chainz </strong>and producer <strong>DJ Khaled</strong>, who recently <a href="http://www.theybf.com/2017/02/11/dj-khaled-sets-his-son-up-to-get-royalties-for-life-producer-sues-khaled-over-%E2%80%98i-got-the"><strong>released the name of his next album</strong></a>, were pouring it up. <img src="http://i64.photobucket.com/albums/h164/ybfchic/February%202017%20Part%203/roc12.jpg" alt=" photo roc12.jpg" border="0"/> Wasshattnin Tip! <strong>T.I. </strong>kept it cool in his shades as he made his rounds. <img src="http://i64.photobucket.com/albums/h164/ybfchic/February%202017%20Part%203/roc15.jpg" alt=" photo roc15.jpg" width="597" height="597" border="0"/> <strong>Big Sean</strong> and his girlfriend <strong>Jhene Aiko </strong>were in the mix for the fun. <img src="http://i64.photobucket.com/albums/h164/ybfchic/February%202017%20Part%203/roc6.jpg" alt=" photo roc6.jpg" border="0"/> "The Get Down" star <strong>Jaden Smith</strong> chopped it up with Hov during the event. <img src="http://i64.photobucket.com/albums/h164/ybfchic/February%202017%20Part%203/roc2.jpg" alt=" photo roc2.jpg" border="0"/> <strong>Russell Simmons </strong>came out to celebrate. &#160; <iframe id="instagram-embed-2" class="instagram-media instagram-media-rendered" src="https://www.instagram.com/p/BQZlTW8jh65/embed/?cr=1&amp;v=7" width="300" height="728" frameborder="0" scrolling="no" data-instgrm-payload-id="instagram-media-payload-2" data-mce-fragment="1"/> &#160; We see new signee <strong>Jim Jones</strong> came out for the <span class="vm-hook-outer vm-hook-default"><span class="vm-hook">party</span></span>. He just signed with Roc Nation this week. &#160; <iframe id="instagram-embed-3" class="instagram-media instagram-media-rendered" src="https://www.instagram.com/p/BQZM8xPBB7T/embed/captioned/?cr=1&amp;v=7" width="300" height="753" frameborder="0" scrolling="no" data-instgrm-payload-id="instagram-media-payload-3" data-mce-fragment="1"/><iframe id="instagram-embed-4" class="instagram-media instagram-media-rendered" src="https://www.instagram.com/p/BQabGxTBt4W/embed/?cr=1&amp;v=7" width="300" height="885" frameborder="0" scrolling="no" data-instgrm-payload-id="instagram-media-payload-4" data-mce-fragment="1"/> &#160; "Grey's Antomy" star <strong>Jesse Williams</strong> chopped it up with RiRi. Peep a few clips from the star-studded affair below: <iframe id="instagram-embed-5" class="instagram-media instagram-media-rendered" src="https://www.instagram.com/p/BQad4SrD_9O/embed/captioned/?cr=1&amp;v=7" width="300" height="911" frameborder="0" scrolling="no" data-instgrm-payload-id="instagram-media-payload-5" data-mce-fragment="1"/> &#160; &#160; <iframe id="instagram-embed-6" class="instagram-media instagram-media-rendered" src="https://www.instagram.com/p/BQZDGX3As6q/embed/?cr=1&amp;v=7" width="300" height="884" frameborder="0" scrolling="no" data-instgrm-payload-id="instagram-media-payload-6" data-mce-fragment="1"/> &#160; &#160; <div id="twitter-widget-0" class="twitter-video twitter-video-rendered" data-tweet-id="830571855924822017"> <div><iframe id="undefined" width="300" height="150" frameborder="0" scrolling="no" allowfullscreen="allowfullscreen" data-mce-fragment="1"/></div> </div> &#160; We see you Regina Hall. &#160; <iframe id="instagram-embed-7" class="instagram-media instagram-media-rendered" src="https://www.instagram.com/p/BQaa4YDhClQ/embed/?cr=1&amp;v=7" width="300" height="728" frameborder="0" scrolling="no" data-instgrm-payload-id="instagram-media-payload-7" data-mce-fragment="1"/> &#160; <em>Photos: Getty/Remy's IG/Kelly's IG/</em><em>Instagram</em> Via: &#160; YBF: &#160;http://theybf.com/2017/02/12/the-roc-nation-brunch-looked-like-star-studded-family-reunion-rihanna%E2%80%99s-perfect-spring</div>